Moving to San Felipe and wondering where you can keep your horse? Board with us!
Board $319.00 USD a month (includes feeding 3 times a day, bran, supplements, water, rotational worming every three months, and daily mucking)
One time boarder membership fee $265.00 per boarded horse
Horse training $20.00 per/day
Horse exercise $15.00 per/day, or barter for supervised use of horse by CECP
Many people have questions about keeping horses in Baja, especially when it gets hot in the summer. But in reality, places in California and Arizona get just as hot as places in Baja. As long as you provide shelter, plenty of water and proper care for your horses, they should do just fine in the summer.
There are also other great reasons to keep horses in Baja. Most of the year, the weather is beautiful. Much of Baja is desert, and the soft, dry sand is great for hooves, you can easily keep your horses barefoot, and you don't have to worry about hoof rot.
Costs are lower as well for keeping horses.
Get in touch to find out about boarding your horses in San Felipe – Send an email to find out about the equestrian center!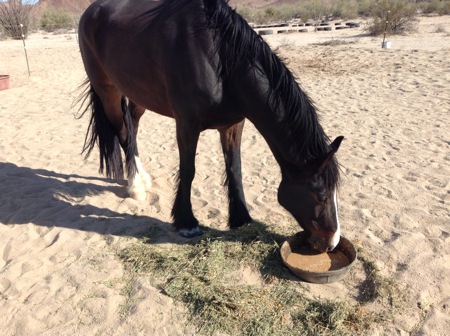 We feed three times a day, and the diet consists of alfalfa or mixed alfalfa/grass hay, and bran/oat mash. Psyllium and feed-through fly repellent are given daily. We've connected with several hay resellers in San Felipe, and the rest we bring down from the States regularly.
We have a wonderful farrier who comes down every 6-7 weeks, a vet who comes from the states, and have established feed connections. If you don't have your own horse yet, but are looking for one, we can help with contacts to help you find trained healthy horses.